Uncle Floyd Vivino
Frequently Asked Questions
Q: "What does Floyd charge to perform?"
A: Floyd's fee depends on when and where he does his show. Please call, it's much faster. If you can't call, send an email with the DATE, TIME and PLACE of your event and we can quote you a price.
Q: "Is Uncle Floyd running for governor?"
A: No. Don't believe the rumors you see on the Internet. People use social media to create false "news" and play childish pranks.
Q: "Does Floyd still perform his old TV show characters? Will Oogie be there?"
A: No, Floyd's act is stand-up comedy. He doesn't work with puppets or dress up as different characters.
Q. "Where is Floyd appearing?"
A. Floyd performs constantly, almost every day of the year. However, this is a booking agency. We don't promote the shows, sell tickets, or give out Floyd's schedule. Check your local newspapers and radio stations to find out when Floyd will be in your area.
Q: "Is Floyd's act for adults only? Or is it okay for kids?"
A: Floyd adjusts his material according to each audience. When he performs for schools, church groups and the like Floyd works squeaky clean. When he does a show for policemen or firefighters they insist he works "blue." Even then, he's really not vulgar or dirty.
Q: "How old is Floyd now? He must be in his 80's! Is he retiring soon?"
A: Floyd Vivino is a lot younger than people think. He plans to keep working for a long time.
Q: "We have an electric organ. Can Floyd play it?"
A: No, Floyd plays an acoustic piano, ideally a grand piano or baby grand. He does not play organs, synthesizers or electronic keyboards. A digital piano is okay as long as it has a full-size keyboard with 88 weighted keys and a sustain pedal.
Q: "Where is Floyd based? How far will Floyd travel to do a show?"
A: From time to time Floyd appears in Las Vegas, Florida and Ohio. We've had offers from as far away as California, Hawaii and England! Of course, Floyd has to be paid extra for travel time and expenses. The majority of his shows are in New Jersey, New York, Connecticut and Pennsylvania, within two or three hours drive of Floyd's home base in northern New Jersey.
Q: "I smuggled a camera into one of Floyd's shows and recorded his performance. Floyd caught me and told me to stop recording because his comedy material is copyrighted. Can I share the video on YouTube and Facebook?"
A. No! It is illegal is post copyrighted material without permission. Floyd always announces during his shows to put away cameras and cell phones.
Q: "I heard that Uncle Floyd is an ordained minister, can he perform weddings? Does Floyd still play at that restaurant every Tuesday? Does Floyd only perform for Italian-American audiences? Does Floyd still live in Paterson? Is Uncle Floyd on Facebook?"
A: There are all sorts of wild rumors going around. The answer to all of these is "no."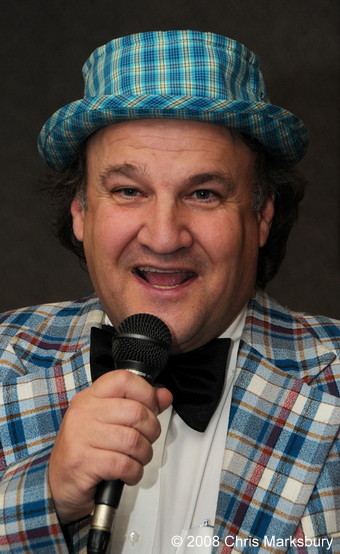 More questions? Call (570) 421-5666
or click here

© 2016 Crazy House Productions - official booking agents for Uncle Floyd